EXCORIATE (Chile) ... Of the ghastly stench Tape out now!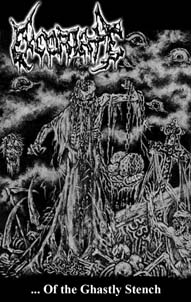 The last recording of Chilean EXCORIATE is now available on tape!
Old school death metal/ Doom that remembers the atmospheres and doomy moments of MORGOTH ("Cursed"), and also the heaviness of CELTIC FROST ("To megatherion") or very early ASPHYX, with a good dose of old school European death metal and traditional Chilean Death metal.
These four songs are destined to those who long for the atmospheres of death and obscurity.
Listen: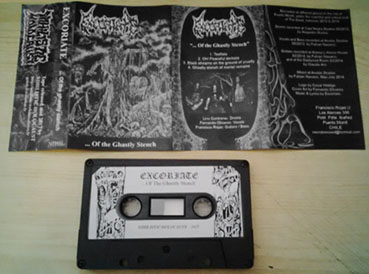 This tape was released by NIHILISTIC HOLOCAUST in mid july 2017,
it comes as a black tape with sticker and pro cover.
Available against 3,20 Euros + postage from this webshop:
EXCORIATE Discography:
- In the Darkest Anguish Demo tape. 2005.
- Death Communion Split tape. 2008.
- Pendulum Demise Demo tape. 2009.
- A Dismal Journey to the Oblivion Split CD. 2015.
- ... Of the Ghastly Stench Demo tape. 2017.
Members of EXCORIATE use or used to play in Demonic rage, The Fallen, Horrifying or Butamacho.
Greetings,
Gab/ Nihilistic Holocaust
Enregistrer
Enregistrer
Echanges possibles,
Contre d'autres démos : K7s, CDs, voir CDrs
Envoyez un mail.
La première chronique de la cassette d'EXCORIATE a été publiée sur le webzine VOICES FROM THE DARKSIDE, très bonne chronique!
It's always a great pleasure for me to find out about new (more or less) bands that are dedicated and see their idea through, no matter how long it takes, not minding the circumstances. EXCORIATE from Chile fit this category. The band from Puerto Montt in the Southern part of Chile is around for 15 years now, but the discography is very manageable. Just two split releases (a CD and a tape album) and two demo tapes, the first of which became part of a split tape release with DEMONIC RAGE. This newest release, the band's second demo tape, also saw the dark of day before as EXCORIATEs part of the "A Dismal Journey To The Oblivion" CD with their brother band HORRIFYING in 2015 on the Chilean label Apocalyptic Productions. But the four songs were too good not to be released again worldwide. Thus they were put out under the name "...Of The Ghastly Stench" by dedicated French underground label Nihilistic Holocaust. But what makes these four tracks so good that they should be heard by anyone? Well, I guess most of you recurring readers will by now have heard from the nearly legendary reputation of the Chilean extreme Metal underground. EXCORIATE feeds this reputation here in a perfect way. The band is praised as old school Death Metal, but this is just half of the truth. The other half is Doom Metal. And even though this mix is not a new invention, EXCORIATE are a very refreshing band in the genre. Their main influences are those pioneering bands of the times before 1991, when Death Metal was still on its way to rise from the underground. Sometimes I hear moments of old MORGOTH and early PESTILENCE, sometimes it's a lethal dose of old Doom heroes. The instrumental intro piece 'Teofisto' is nearly pure Doom stuff, while the following 'Oh! Peaceful Derketa' should please anyone who might dig a fine mix of INCANTATION and early CELTIC FROST. I can hardly deny that it needed only this song to praise EXCORIATE for what they delivered, but the other two songs are of the same quality for sure. 'Black Streams On The Ground Of Cruelty' summons the spirit of old MORGOTH and 'Ghostly Stench Of Mortal Remains' is either great old fashioned Death Metal, with a not as high dose of Doom, but hints on the Swedish school of Death Metal instead. So, EXCORIATE should please all those who love their Death mixed with Doom, played the old school way and with loads of passion. As an additional bonus extra, the sound of "...Of The Ghastly Stench" is authentic, just like it is a very good demo recording from that era I already wrote about. Honestly, if this tape would have been released back then, it would have a cult status today for sure! And I wish it will have it in 25 years, it is worth that status 100%. Especially if you take into concern that "...Of The Ghastly Stench" comes along like a professional release with a printed cover, black tapes and an extra sticker. I just raise all of my thumbs for EXCORIATE and leave it up to you not to miss this great band. Visit: nihilistic-webzine-distro.fr and listen at: nihilisticholocaustrecs.bandcamp.com
http://www.voicesfromthedarkside.de/Albums-EPs-Demos/E/EXCORIATE--11130.html
Trois nouvelles chroniques d'EXCORIATE ont été publiées!
WINGS OF DEATH Webzine (Hol):
Excoriate is een van de vele bands uit Zuid-Amerika (in dit geval uit Chili) die nog zo rauw en authentiek musiceren dat het eigenlijk niet meer in deze tijd past. Natuurlijk heeft deze pure, eerlijke aanpak z'n charmes, de muziek kan ik ook prima hebben. Hun versie van old school death metal is vanwege de aanpak zo duister dat het gelijk raakvlakken heeft met doom(death), ondanks het soms toch best opgefokte tempo.
De band bestaat sinds 2002, en heeft sindsdien alleen maar demo's en splits uitgebracht. Het meest recente werkstukje heet ... Of the Ghastly Stench, en is door het Franse Nihilistic Holocaust op tape (jawel, zo old school) uitgebracht; en grappig genoeg ook digitaal. Het beste van twee werelden.
Het begrip underground lijkt daarmee in zekere zin achterhaald, omdat muziek simpelweg op eenvoudige wijze wereldwijd voor het voetlicht gebracht kan worden. Aan de andere kant: het blijft evident dat obscure metal als die van Excoriate zich zeker in productioneel opzicht niet kan meten met die van meer gekende acts. Dus de underground-gedachte blijft in die zin gehandhaafd.
Gelukkig doet de karige productie niks af aan de muzikale bedoelingen en de vaardigheden van de deelnemende muzikanten. Want daar is in mijn beleving niks mis mee. Vooral het aanwezige, logge basgeluid drukt de band de doomy hoek van de death metal in, al zijn er in de karige blastpassages net zo goed raakvlakken met black metal. Dit is gewoon goudeerlijke old school extreme metal, gemaakt door muzikanten met het hart op de juiste plaats. Alsof we nog steeds rond pak 'm beet 1990 zitten. Niet zeuren, gewoon ff luisteren!
https://www.wingsofdeath.net/Excoriate-Of-the-Ghastly-Stench
METAL REVOLUTION Webzine
One prevalent thing that I have noticed about record labels these days I that more and more of them seem to have a target audience – More so than merely being a 'Metal' label, for instance (such as is the case with Nuclear Blast). These days many smaller, more specialized labels can be found, who focus on one specific subgenre and almost or completely exclusively record and release bands and albums from within this genre. One such example would be Nihilistic Holocaust, whose main focus is on underground Death Metal, the way it is supposed to be played.
The newest record that has found its way across my doors threshold from this label is called … Of The Ghastly Stench and is the fifth release from Chilean Death Metallers Excoriate – A true underground act, both in sound and in releases. All of said releases have been either Demos of Split albums, and … Of The Ghastly Stench is no exception, being a Demo Tape (as far as I can tell, the band almost exclusively sell their records as cassettes) showcasing four old-school tracks, which combined roughly hit the half-hour mark.
Now, for those of you who are expecting an exciting new release pushing the boundaries of what Death Metal can and cannot be, whether that is a more melodic approach or perhaps combined with another genre… You will not find what you are looking for.
What you instead will discover, is a throwback to what the genre was back in the late eighties, when bands such as Bolt Thrower Suffocation and Entombed reigned supreme. Excoriate magnificently encapsulates everything that made the genre great as well as showing off what muscle this musical approach had both back in the day, but even more so today.
Excoriate has a very slow, bas-fuelled approach to their music, something that I personally rarely see these days (perhaps I would if I delved more in the Doom Metal genre – But I digress). This is very evident on both the introductive track "Teofisto", as well as the first actual track "Oh! Peaceful Derketa", the coherent sound of which is a prime example of what this Chile-based quintet is capable of.
A release for fans of the old-fashioned Death Metal approach (and as such it is aptly released on Cassette), one recommended for fans of, as stated above, fans of Bolt Thrower, Sufocation and Entombed.
http://www.metal-revolution.com/reviews/excoriate-of-the-ghastly-stench
LORDS OF METAL Webzine
When '…Of The Gastly Stench' arrived at my doorstep, I guessed the mighty Exmortis (U.S.A.) finally was resurrected from the grave. After a second look I figured out I was wrong. Excoriate's logo has some similarities with Exmortis' logo I think. Anyway, this is Excoriate I'm talking about here. The band hails from Chile, has released some demo's and splits with Demonic Rage ('Death Communion') and Horrifying ('A Dismal Journey To The Oblivion').
Now the band releases a third demo that holds four tracks. All of them already were available through the split CD with Horrifying (2015) so I don't know what's the added value of this release? To me, the '…Of The Gastly Stench' demo is a great first acquaintance with Excoriate, a band that plays raw underground death metal with some black metal influences which is not for the faint of hearted. If you want to know more about these killer tunes, visit Nihilistic Holocaust's webpage
http://www.lordsofmetal.nl/en/reviews/view/id/35292
---
Permission de ce forum:
Vous
pouvez
répondre aux sujets dans ce forum